Originally posted by Raymond Isola and John & Lolita Casazza for EdibleSchoolYard.org in March 2013.
On the edge of San Francisco's Mission District is Sanchez College Preparatory School, an elementary school that is working to address issues of hunger, poor nutrition, and deteriorating health within one of the city's most affected populations. The school has a child development center that has established a unique community-based program to improve nutrition and health habits for its 300 students and their families.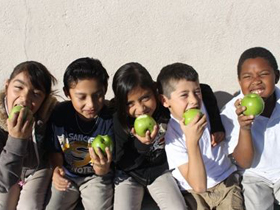 Sanchez School reflects the make-up of its neighborhood with a diverse population of students: 80 percent are Latino, with the remaining 20 percent of Filipino, other Asian, African-American, and European decent. Of the 82 percent of the students who qualify for the school lunch program, many of their families are considered low-income. What we are learning is that better diets equate to improved health, which can be correlated to more regular school attendance and increased learning.
A study in 2010 entitled Hunger In America found that "children from food insecure households are likely to be behind in their academic development compared to children from food secure families." Given these findings and a deep understanding of the student population at Sanchez School, leaders of the school community sought to create a community education center to offer a proactive strategy for improving student and family nutritional knowledge and habits, while also improving student academic performance.
This vision deepened during a visit to Sanchez School by Carlo Petrini, founder of Slow Food International. Mr. Petrini and Dr. Isola, the former principal of Sanchez College Preparatory School, developed a School Community Development tool that incorporated three main goals:
Create a more natural environment so that students can play, exercise, and learn. This space would include an edible instructional garden where students learn to grow and prepare their own food.
Provide increased family and student access to seasonal, healthy food on a daily basis.
Engage key community members (chefs, local farmers, school staff, artists, parents, businesses, neighborhood associations, and non-profit or community-based organizations) in the development and execution of this project.
One of the first actions taken was to develop a Green Schoolyard Master Plan as part of a voter-approved, bond-funded project where parents, students, staff, and the community at large would help to design a hands-on learning model. This model would offer more open space and an outdoor learning environment for all children at school.

With the help of organizations like Slow Food San Francisco, INKA Biospheric Systems, Bi-Rite Market, Education Outside and others, the once underutilized areas on campus became active areas with a school garden and greenhouse. The landscape included multiple beds of greens, herbs, flowers, and vegetables; a compost bin; an earth bed to play in and explore for insects and worms; and a state of the art vertical garden. Based on the school master plan, a large section of asphalt was taken out and two obsolete portable classrooms were removed to make room for a teaching garden and natural outdoor play environment.
A full-time green schoolyard specialist was hired through a grant. This specialist co-taught with the science teacher to incorporate the students' garden learning into the science curriculum being taught by classroom teachers. The students also learned about recycling and composting. These combined learning experiences helped students develop environmentally responsible stewardship behaviors that are connected to ecological values within the context of the school's daily operation. As students worked on building beds, they were visited by Apolinar Yerena, a local strawberry farmer and Mexican immigrant who shared his knowledge of strawberries as he planted them with students. Eventually these strawberries became a popular fruit for the students to eat and make sorbet with.
Soon the larger school community started to take interest in the greening project. Mothers who grew up in the Mexican and El Salvadoran countryside commented that their children, who live in the city, had the opportunity to experience what they had lived growing up in their far away countries. In the spirit of continuing to build community, Sanchez School constructed an outdoor meeting space and peace garden right in the middle of the playground that included native plants, a cobb bench, tiled murals, and large rocks where the students could play and relax. This collaboration was an effort between the school staff, the Sanchez Neighborhood Association, and the student council. There is also a sculpture garden on the west side of the school building that community members can see on a walk through the neighborhood.
To complete the garden project, Sanchez School formed a partnership with the San Francisco Food Bank in 2008. By then, Sanchez School had built a learning space and enacted a curriculum, but still desired more structured participation from parents and the community as a whole. This partnership with the food bank would allow students and families to have greater access to healthy food directly at the school. A weekly food pantry of seasonal food would be provided for 80 families along with nutritional snacks for the students during the school day. Parents would be responsible for organizing an equitable distribution system at the pantry — a responsibility they continue to oversee to this day. The staff from the San Francisco Food Bank also continues to be active partners by providing parents weekly cooking classes and bilingual recipes.
These classes and recipes help parents become familiar with foods they are sometimes unaccustomed to preparing. They also have the opportunity to learn how to cook these foods at home — knowledge that increases their cooking confidence and provides their families with a balanced and nutritious diet every day.
Has this community development tool been successful?
Only time will tell as it continues to evolve, but we are clearly seeing stronger school community relationships amongst people living and working in the neighborhood, an increased awareness about the school garden project, and improvements made to eating habits and student performance.
In the spring of 2012, the California Department of Education's learning goal was a five-point academic performance index growth on the California Standards Test. Sanchez students exceeded this goal with 68 points academic progress, more than 13 times the expectation. In science, taking the most recent three-year average, fifth graders at Sanchez performed at the 59 percent proficiency level, just below the average for their peers in SF Unified School District, demonstrating a 62 percent proficiency, just above the state average of 58 percent. Comparing Sanchez School to several elementary schools with similar student populations, the average science proficiency levels at these schools hovered around 25 percent.
Sanchez School's level of science proficiency is impressive given that it is a high-poverty school with a dramatic over representation of students learning English as second language with identified learning disabilities. Sanchez School parents are very supportive of the hands-on approach to learning in an outdoor classroom and view this education as a way for their children to develop science knowledge and healthy eating habits. Our hope is that other school communities adopt a similar tool to raise awareness about the important place that outside education has in the learning process and students' ability to thrive, because a nutritious and healthy lifestyle is certainly connected to academic learning within green, vibrant spaces.
Dr. Raymond R. Isola is the former principal at Sanchez School Elementary for thirteen years. Currently, Dr. Isola is writing a book with Jim Cummins, who is professor and lead researcher at the Ontario Institute for Studies in Education at the University of Toronto in Canada. John and Lolita Casazza are current San Francisco Slow Food Board members.